---
SUS 30 in Rimini (IT) and San Marino (SM)
---
The 30th Sanmarinian University Session (SUS 30) of the International Academy of the Sciences (AIS) San-Marino is scheduled for september 2007, in the week containing San Marino's New Year's Day (sept. 3) celebrations. Most of SUS 30 will take place in the Italian town of Rimini, quarter San Giuliano Mare, on the border of the Adriatic Sea. The final day, september 8, will be held in San Marino.
Most of the conference programme will be held in ILo (Internacia Lingvo Esperanto). To benefit from the conference programme it is recommended to acquire a sound basic knowledge of ILo beforehand. Experience shows that for a trained scientist this is possible within a couple of weeks.
---
The conference fee is 0,3 AKU, or € 19.50. In the last four weeks before the conference there is an increased fee of 0,5 AKU (€ 32.50), which will also allow an on-site registration. Therefore we kindly ask to refrain from sending money in these last four weeks. The conference fee covers participation in the SUS programme but does not include accomodation, board, or insurance.
Programme
The scientific programme (courses and talks) is being compiled by the faculty deans and the academic Senate. Please direct any contribution offers to the dean of your faculty or to the secretary to the Senate. Courses have to be in ILo (international language, Esperanto). Talks (max. 40 minutes) may be submitted in any language.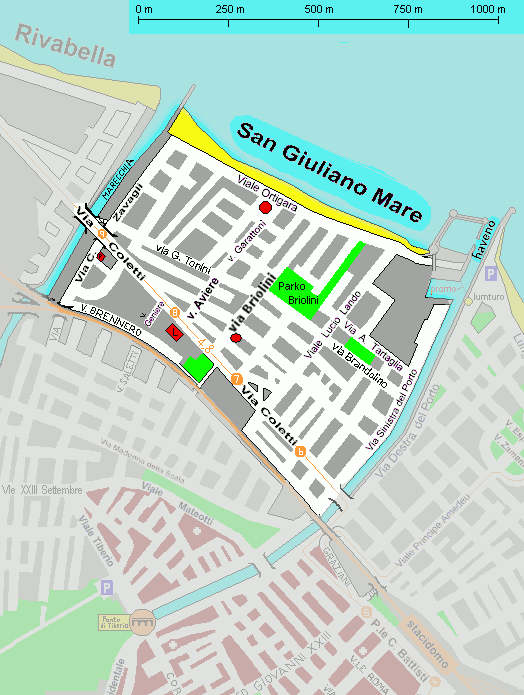 Organisational Details
The site of SUS 30 will be the CER-ES center in Via Briolini 48 in San Giuliano Mare, Rimini, Italy. The map sketch shows that Via Briolini is situated centrally in San Giuliano.
Rimini centre can be reached easily from the conference site, through Via Coletti and the port bridge. Reaching Via Principe Amedeo one turns left to the beach, or right (through the pedestrian underpass) to the railway station and the historic centre. There are public busses.
Public Bus Traffic
Rimini has a network of busses and trolley busses. Two lines run Via Coletti and on workdays offer several connections per hour to the railway station and the historic centre. A circular line (unidirectional) gives access to the side-streets of San Giuliano.
Tickets are available from the bus drivers but at a higher rate than from bookstalls or tobacconists, showing the sign given here. Please note that you need a full ticket for any piece of luggage exceeding a certain size.
There are several busses per day from Rimini to San Marino.
---
External Links
---
More information is available in Esperanto and in German.
All information given without guarantee.